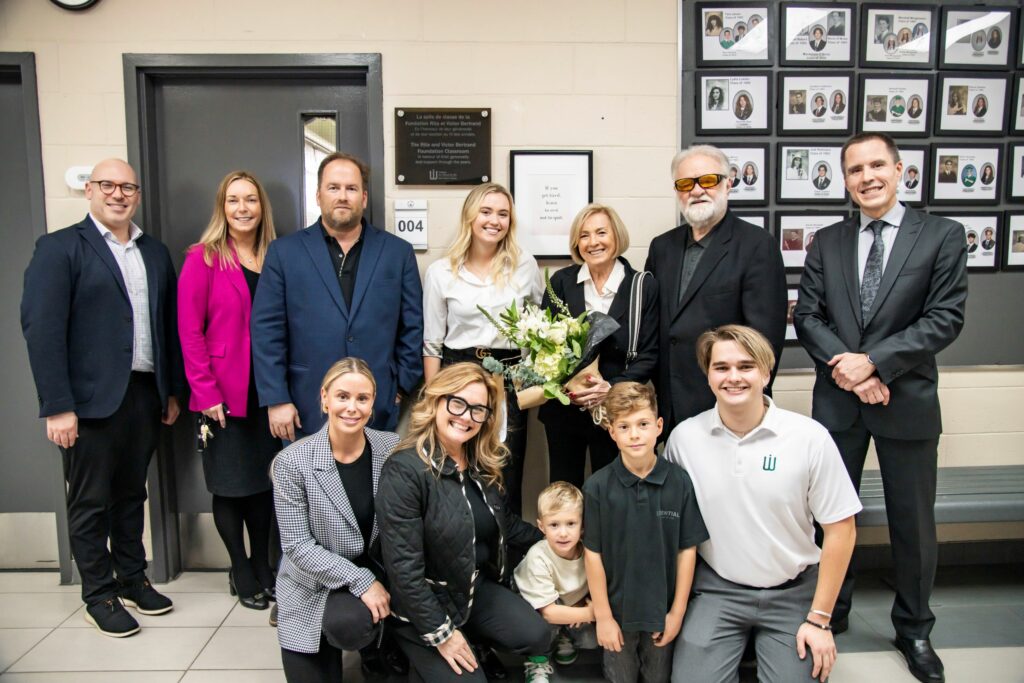 On October 25, 2023, the entrance hallway of our school was the scene of a beautiful event as we gathered to unveil a plaque next to classroom 04, a tribute to two extraordinary individuals, Victor and Rita Bertrand. Their generosity and their enduring impact on our school were celebrated by members of the Bertrand family and our leadership team.
The Rita and Victor Bertrand Bursary: Creating Wonderful Opportunities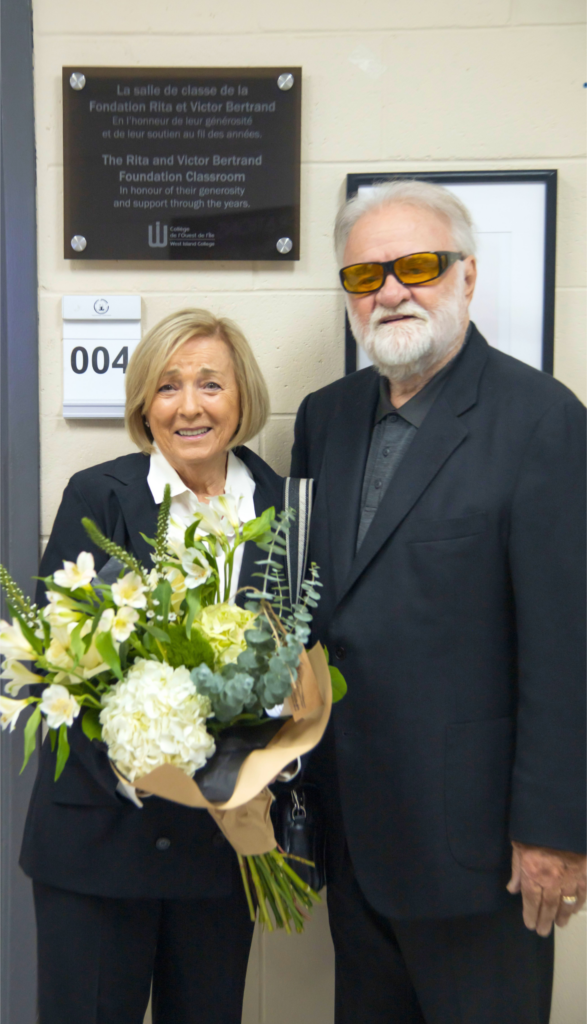 Established in 2016, the Victor and Rita Bursary Fund allowed the creation of new financial aid for WIC students. Each bursary, ranging from $5,000 to $7,500 per year ($25,000 – $37,500 total per bursary), is awarded to deserving students throughout their entire journey at WIC. Students seeking admission to Secondary 1 can apply for this bursary, ensuring that financial constraints do not impede their educational journey.

Over the years, this bursary has played a pivotal role in dismantling financial barriers that might otherwise hinder entry to our school. This initiative has opened doors for seven students to join the stimulating learning environment we provide.


This bursary goes beyond mere financial support; it embodies the unwavering commitment of the Bertrand family to education as a means of empowerment and personal growth. It is a tangible demonstration of their desire to see each person reach their full potential, irrespective of their financial background.
The Bertrand Legacy: A WIC Family Story
Although the bursary program was launched in 2016, the Bertrand's connection with our school spans decades. Victor and Rita's four children – Chantal, Marc, Vic, and Michelle – proudly graduated from WIC between 1983 and 1992. Michelle is one of our most involved alumni: she has been on our WIC Foundation Board of Directors since 2012. Her children also attended our school, carrying forward the Bertrand family's tradition of personal excellence. Emma, Rita and Victor's granddaughter, is now a proud WIC alumna from the class of 2021, and her brother, Jonathan, is set to receive his diploma at the end of the 2024 school year. 
"WIC holds a special place in our hearts", explained Michelle. "I met my husband, Scott (class of 91), while we were both students here."
Of course, seeing her children follow their parents' footsteps by joining WIC was a wonderful full-circle moment for her. She loves how the school understands the part family and grandparents play in the children's lives.
"Inviting grandparents for a tea on campus in grade 7, among others, shows how WIC recognizes their importance. I feel blessed that my children have grandparents that actively make a difference in the lives of WIC students. It is a beautiful bridge between the generations that allows my parents to have a role in the WIC community that is so important to me and the kids."
Since WIC is a family affair for the Bertrands, we were happy to see that Rita and Victor were surrounded by some of their grandchildren and family members for the event. We were proud to celebrate the bursary founders, the Bertrand legacy and the two generations who graced our walls as students. As a school and community, we are honoured to be able to watch Bertrands grow and become the best version of themselves since 1981, and we look forward to seeing even more of them!